Welcome!
We help you find a cost effective way to market and promote your business with custom promotional items that speak to your clients. We work with over 3,000 suppliers, you are only limited by your imagination.
We know first hand the importance of making each and every event not only a success but more importantly, leaving a lasting impression with targeted clientele. We are equipped to assist clients in every aspect of branding by providing that perfect item with the superb customer service you deserve.
We are a local company, based in St. Petersburg but our services cover the nation.
Featured Item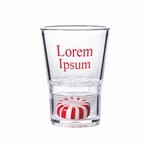 2 Oz. Flav-A-Shot™ Infusion Acrylic Sh...
Infusion acrylic shot glass two piece 2 Oz. acrylic shot glass. Place an edible condiment (such as candy, fruit, gum, licorice, chocolate, etc.) into the removable bottle compartment of the unit. Reas...
$2.70 - $3.42
What Our Customers Are Saying

Cricket is an absolute pleasure to work with. She goes above and beyond to make sure we are happy from start to finish. She is professional and we could not be happier with the products and service we...
Tara Jerse
Tampa Community Hospital
Feb 09